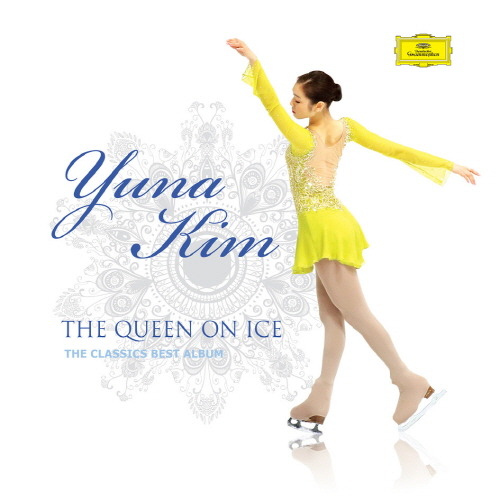 This album contains all the classic music, that made new history in figure skating, along with Yuna Kim!
Not only the program music of Yuna Kim for 2014 Sochi Olympics, "Send in the Clowns" by 'Stephen Sondheim' and "Adiós Nonino" by Astor Piazzolla, but also all 12 classic music Yuna Kim skated with since 2003 are in this album.
13 reference classic, selected by Yuna Kim, and bonus DVD of video from 2010-2011 All That Skate ice show!
Booklet, containing 70 beautiful pages with her variety of pictures, hard cover package, and 2CD+DVD!
Everything is gathered together for you!
Adiós YUNA, the best music present from Yuna Kim as she leaves the ice behind!
Released by Universal music from March 21st, 2014.
※ 앨범 구성 Product Details
- 2CD
- 아이스쇼 영상 (Bonus DVD)
- 부클릿 70p (Booklet 70p)
CD 1
01. Sviridov: Old Romance / 스비리도프: '눈보라' 중 올드 로망스 (2003-2004 시즌 쇼트 프로그램)
02. Bizet: Carmen Suite No.1 – Seguedille / 비제: 카르멘 모음곡 1번 중 – 세기디야 (2003-2004 시즌 프리 스케이팅)
03. Vaughan-Williams: The Lark Ascending / 본 윌리엄스: 종달새의 비상 (2006-2007 시즌 프리 스케이팅)
04. J. Strauss Ⅱ: Die Fledermaus Op.362 – Overture / 요한 슈트라우스 2세: 박쥐 서곡 (2007-2008 시즌 쇼트 프로그램)
05. Saint-Saens: Danse de macabre Op.40 / 생상스: 죽음의 무도 (2008-2009 시즌 쇼트 프로그램)
06. Rimsky-Korsakov: Sheherazade Op.35 – 2 Lento / 림스키-코르사코프: 세헤라자데 2악장, 렌토 (2008~2009 시즌 프리 스케이팅)
07. Massenet: Meditation from 'Thais' / 마스네: '타이스' 중에서 명상 (2010 갈라 프로그램)
08. Gershwin: Piano Concerto F Major / 거쉰: 피아노 협주곡 F장조 (2010 프리 스케이팅)
09. Bond On Bond / 제임스 본드 테마 – Bond On Bond (2010 쇼트 프로그램)
10. Adam: Giselle – The Introduction / 아돌프 아당: 지젤 (2010-2011 시즌 쇼트 프로그램)
11. Sondheim: Send In The Clowns / 스티븐 손드하임: 어릿광대를 보내주오 (2013-2014 쇼트 프로그램)
12. Piazzolla : Adios Nonino / 피아졸라: 아디오스 노니노 (2013-2014 프리 프로그램)
CD 2
01. Waldteufel : The Skaters, Waltz / 발트토이펠 : 왈츠, 스케이트 타는 사람들
02. Debussy : Reverie / 드비쉬 : 꿈
03. Barber : Adagio for Strings / 바버 : 현을 위한 아다지오
04. Rachmaninov : Symphony No.2 in E minor 3. Adagio / 라흐마니노프 : 교향곡 2번 E단조 3악장 아다지오
05. Elgar : Salut D'amour / 엘가 : 사랑의 인사
06. J. Strauss Ⅰ: Radetzky March Op.288 / 요한 슈트라우스 1세: 라데츠키 행진곡
07. Mozart: Allegro from 'Eine Kleine Nachtmusik' K.525, 1.Allegro / 모차르트: '아이네 클라이네 나흐트무지크' 1악장 알레그로
08. Brahms: Hungarian Dance No.5 in G minor / 브람스 : 헝가리 무곡 5번
09. Shostakovich: Romance (The Gadfly) / 쇼스타코비치 : 로망스 (The Gadfly)
10. Chopin: Etude Op.25 No.3 in F major / 프레데릭 쇼팽 : 에튀드 3번
11. Catalani : La Wally 'Quando A Solden / 카탈라니 : 라 왈리 中 '언제쯤 솔덴에서'
12. Gershwin: Summer Time / 조지 거쉰 : 서머타임
13. Piazzolla: Libertango / 피아졸라: 리베르탱고
Bonus DVD
01. Massenet: Meditation from 'Thais' / 마스네: '타이스' 중에서 명상 (from 2010 All That Stake Summer)
02. Adam: Giselle – No.10 Andante sostenuto / 아당: 지젤 발레곡 10번 (from 2011 All That Skate Spring)