"I knew that the path would be difficult…I just felt like I had to continue"
Yonhap News | 2012.12.10 | Go Dong-Wook
'Figure Queen' Kim Yuna is a top class athlete who has battled through nerve wrecking competitions with nerves of steel in spite of her young age.
However despite this, the most scary 'deliberation time' she had to agonize over her future was probably the last two years after the Vancouver Olympics.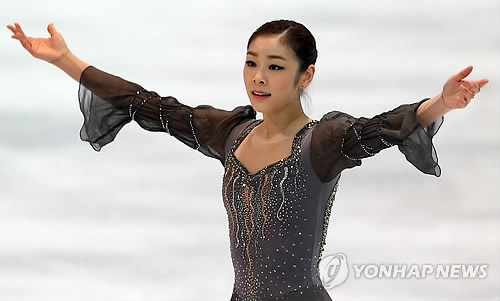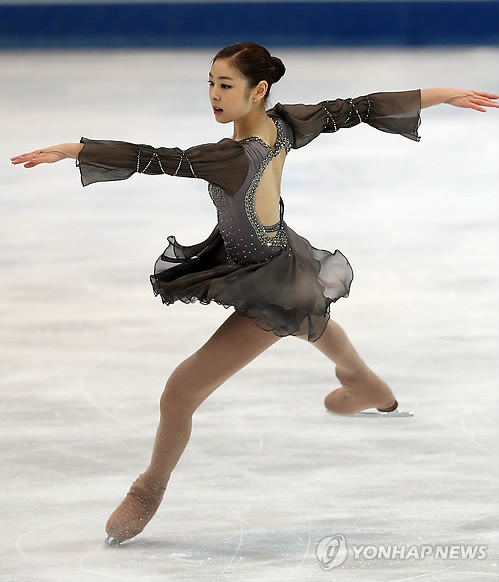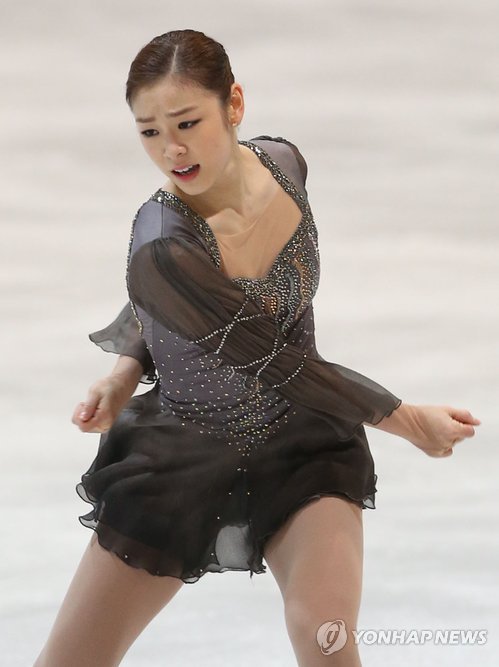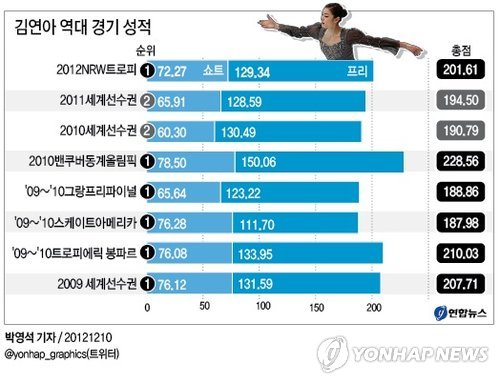 After starting to skate at the age of 7, Kim had one goal and she ran full speed towards that sole dream.
When the Olympics ended she stood at her life's crossroads and suddenly she found herself confronted with having to make a choice that would determine the next chapter of her life.
It would be a lie to say that Kim was able to be free from all the consequences and situations surrounding her during her contemplation.
However when it came down to the final decision, it was her choice, and her choice only. No one else could make the decision for her.
During her skating career Kim had always swiftly and firmly found a way to deal with the countless obstacles and challenges she met on the ice.
But even with such resolution, Kim agonized over her future for over 2 years.
After struggling over what path she should take, Kim announced that she would be returning to competitive ice and that she "will aim at competing at the 2014 Sochi Olympics."
Kim's interest in sports diplomacy and administration grew as she participated in PyeongChang's bid to host the winter Games.
She expressed that she wanted to try to become an International Olympic Committee (IOC) member at the 2018 PyeongChang Winter Olympics.
Kim successfully accomplished her first step in the new chapter of her life by pulling off two great performances at the NRW Trophy held in Dortmund, Germany.
After the competition she talked about the difficult process of coming to the tough decision to return to competition.
"I've been skating for about 16 to 17 years, ever since I was little. Skating had been the only thing in my life.
It was almost impossible to imagine myself doing something else and I had no idea what I had to do," confessed Kim.
"It would have been difficult enough to try and think about my plans alone.
But with so many people interested in my future decision, I was overwhelmed by the pressure.
The more and more I thought about my future, the more I was lost," explained Kim.
As a skater, it is true that Kim has a skater's dream curriculum vitae.
But it was also that hard competitive life of a skater that made her reluctant to return to the ice.
"There were a lot of reasons but what worried me the most was the gruesome training.
Also the mere thought of the nervousness and complicated feelings that accompanies each and every competition was frightening," said Kim.
"I felt those exact emotions at this competition as well," Kim added.
"Ever since I was a child I thought that the Vancouver Olympics would be the end of my skating career.
After I had a good performance at the Games, I lost motivation. I just didn't want to do it," said Kim as she described the sense of loss she felt after the Olympic Games.
As Kim confessed the emotional turmoil that she went though, one could see that she had truly been tormented
during the time she spent contemplating over her future though the look on her face.
Her eyes became misty as she relived the memories.
However, even though the life of a competitive skater may have caused her pain she returned to the ice as if by instinct.
Kim returned to her homeland after spending most of her time overseas, training.
Being back in a familiar atmosphere had a big influence in her decision to continue skating competitively.
"As I started to practice with the young Korean skaters, I began to think that it wasn't necessary to train oversees like I did before.
I knew training would be difficult. I knew very well. But as I practiced with the young skaters, I started to think that I could do it again.
Also I've been skating since I was a kid so in a way I felt that I just had to skate," admitted Kim.
Living and training in a 'familiar yet new' environment in her native Korea, gave her the strength to start again.
"When I was in Canada and in the U.S., I was there to train. I felt like I was staying in the place for training.
That was the most predominant feeling that I felt while living abroad.
I missed training with my friends and staying with my family in my 'real' home.
Now that I am home, I feel much more light hearted. Training and life in general has become much more comfortable and easier," said Kim as she smiled.
When asked about her new coaches, Kim answered that she feels at home with them.
"There are no communication barriers and since I they are my childhood teachers, I feel really comfortable with them.
Unless there is a big sudden change, I think it would be safe to say that I want to continue to train with my current coaches," said Kim who seemed quite happy.
So Kim made her decision.
As her peers worried over their future careers as college seniors, Kim also took one step forward towards the unpredictable tomorrow.
Kim chose her future path and in a way, the NRW Trophy was her first test that she encountered after breaking out of her shell.
And she passed that first test with a great score of 201.61 points.
"I thought that I would be afraid of going back to my training regime after I made my decision.
But on the contrary, I left liberated. Now that I gotten through my first competition I feel more peaceful," said Kim as she smiled.
It seems that Kim's performance is not the only thing that is maturing with the passage of time.
◆ Translation ⓒ abyss / FEVERSKATING
◆ The Original : [Yonhap News] http://bit.ly/U7MFQC